Features
Sore Fingers…In The Beginning…
Photos found and captioned by JOHN WIRTZ
1996 – The whole school
Three tutors: (front centre) Pete Wernick – Kate Brislin – Jody Stecher
Founders: Andrea Preston (2nd from left first row standing – Mike Preston (front row far right with Autoharp!)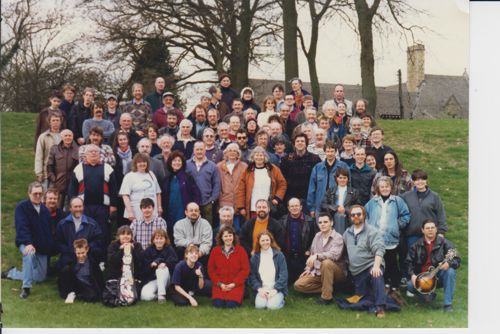 1997 - The Whole School
1998 – Tutor Concert
Tony Trischka – David Grier –Barry Mitterhoff
1998 – Jane on Thunder:
Rex Preston – Neil Thompson – John Dowling. Notice how stark the stage is!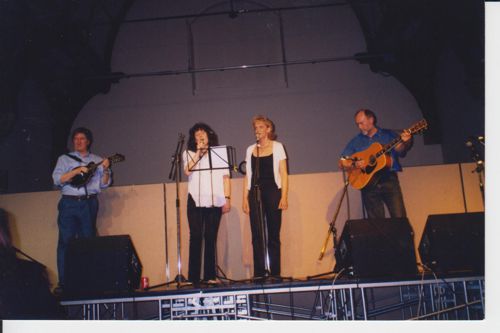 1998 – Student Concert
Goetz Ahrens – Moira Wirtz – Joanna Thompson – Paul Brewer
1998 – Scratch Band
Unknown bass and Mandolin players – Leslie Howe ‐ Kate Gimblett – John Wirtz
The only time I played in the student concert. Their guitarist (the infamous "Red Boots") had left early in a huff!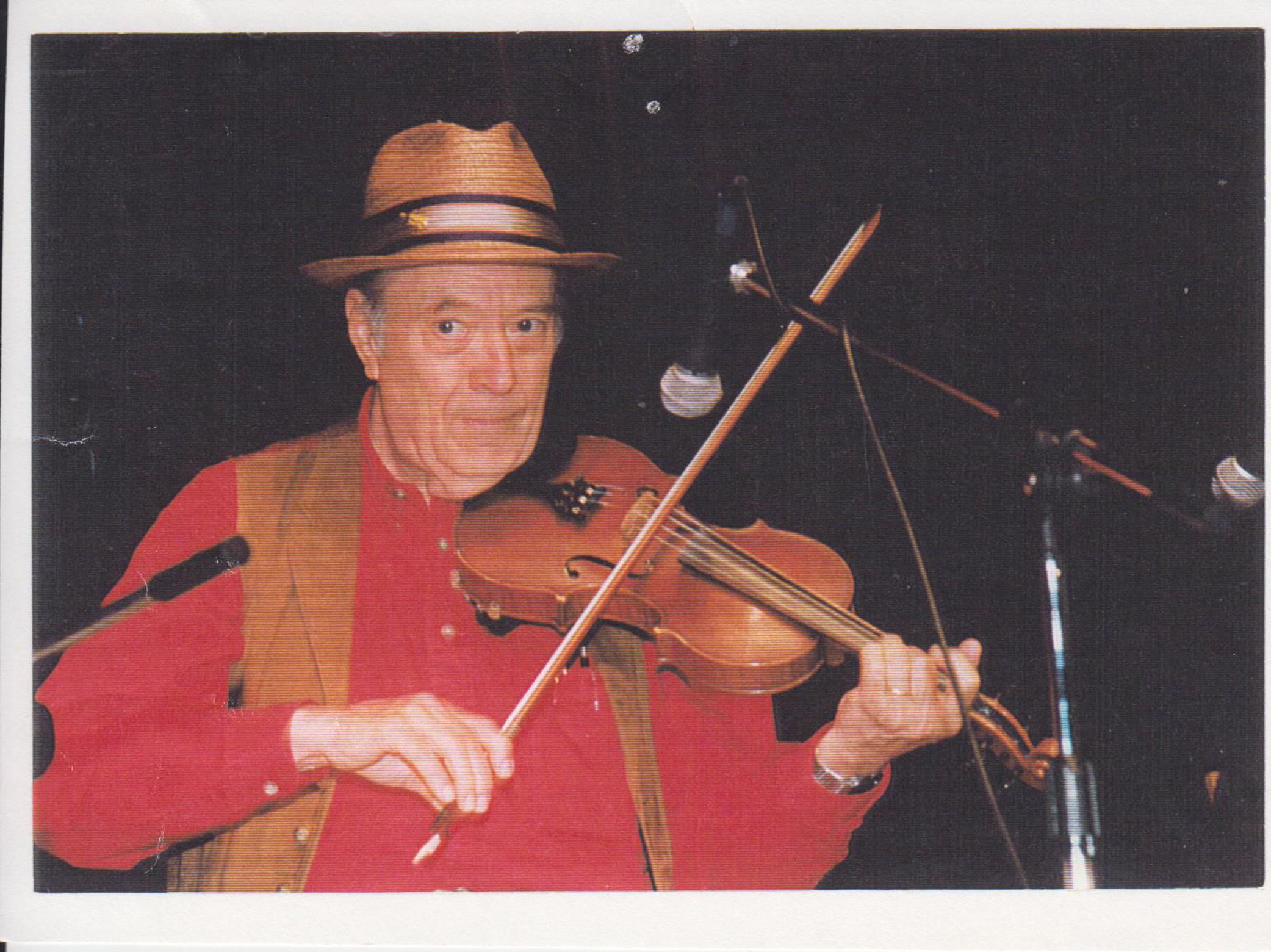 1998 – Fletcher Bright, the man who put the fiddle class on the map!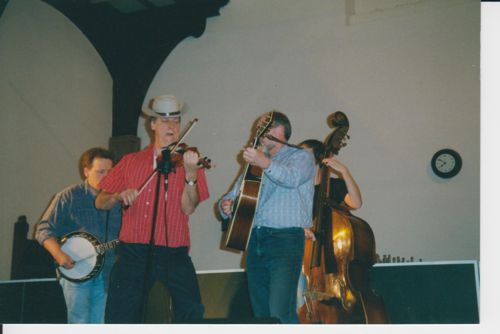 1998 – Scratch Band
Mathias Malcher – John Boston (looking suitably authentic!) – Paul Brewer‐ unknown bass player
1998 – The refectory, nice and calm!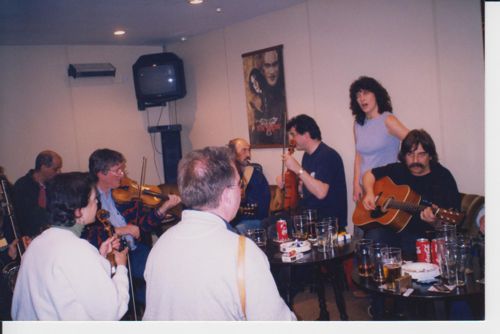 2000 – Session in the bar which was then in the Cricket Pavilion. Notice the ashtrays!
Left to right: Kate Gimblett – Goetz Ahrens – Guy Rogers – Mark Tindle (sadly no longer with us) – Moira giving it her best and John. Back to camera, front centre: Richard Hampton (passed away 2017). Yes, Moira & I found time to play and sing in those days....
2000 – More from the Cricket Pavillion:
From left to right: in the corner, Pat Rhodes, Kate Gimblett, Moira Wirtz, Kit Gregory, David
2000 – More of the Cricket Pavillion sessions
John Wirtz – Derek Adams – unknown fiddler – Chris Lawrence ‐ Pat Rhodes – Simon Fossey
2001 – New bar.
Tony, Top school caretaker who used to take a weeks holiday to work in the bar for S.F.Week, and Heather, who left the school catering dept several years ago.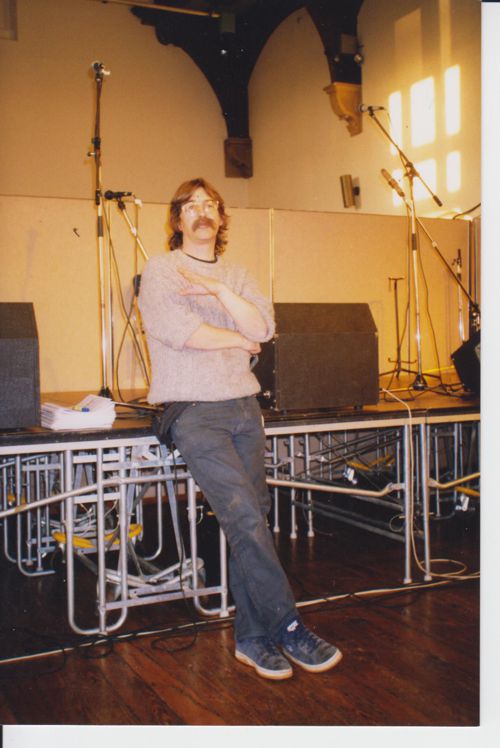 Year? Not sure, but obviously PA Seminar time.
No d&b then, just home‐made monitors, a twelve channel desk and a pair of EV S200s as Front of House!
2000 – On arrival, we found the school had invested
in a full drape to create a back drop and hide the horrible white wall! A marked improvement and contrast with the picture below.
The following year, we went looking for this large piece of material and couldn't find it. Apparently it was taken by a teacher. It was also the year Danny Thompson put the bass class on the map. On his birthday, catering bake a large cake which Danny cut into about 170 pieces to let everyone in the hall have slice!
Finally the scratch band were: Just out of shot with the bass: Mike Pryor – Martin Froud – Caspar Cronk – Pete Woodman – Bernie Ross – Percy Copley – Bill Dalton
It sounded pretty like an echo chamber too! Lesley Howe – Kate Gimblett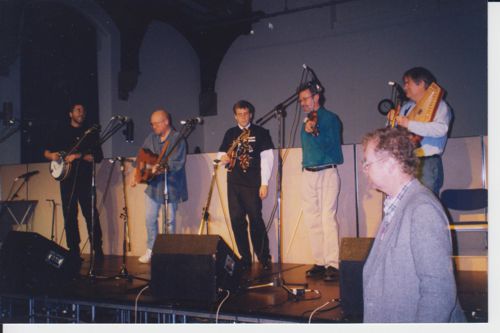 1999 – Tutor Concert
Tonty Trischka – David Grier – Barry Mitterhoff – Tracy Schwarz – Mike Fenton In the foreground – Mike Preston
1999 – Quiet Jam in Top School classroom
Recognised from left to right: Leslie Howe – Mike Preston ‐Caspar Cronk ‐ Barry Mitterhoff.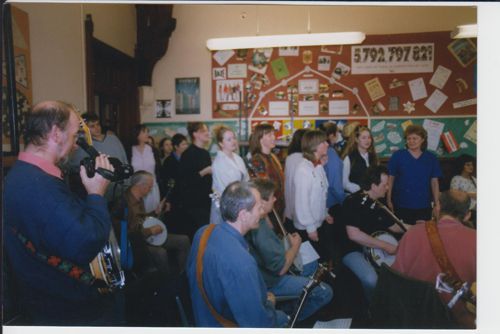 1999 – 'Come All Ye' singing session in Ginny Hawker's class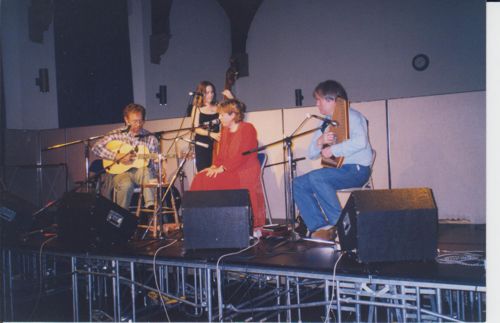 1999 – Tutor Concert
Mike Preston – Nellie Preston – Andrea Waters – Mike Fenton
1999 – Ray Smith posing in front of mural drawn for Tony Trishcka
Tony was very generous with TAB that year earning him the nick‐name "Tony Save the Trees Trischka" This fact was clearly documented in the mural.
1998 – Chris Moreton leading the slow jam band in the student concert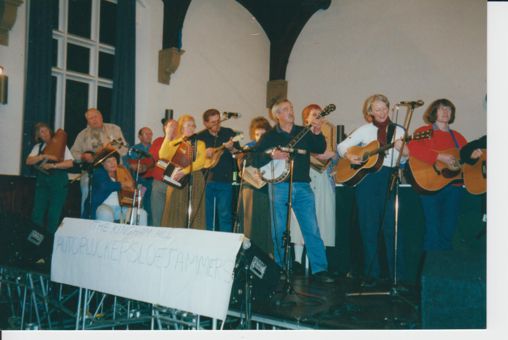 1998 ‐ The Slow Jam band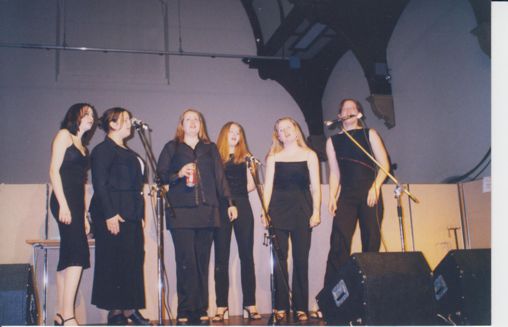 1999 – Student Concert – Acapella Band Sweetstorm
At breaks these young ladies re‐grouped on the sport firled and entertained the rest of the students by playing Rugby! There is a vicious rumour that David Grier jojned in.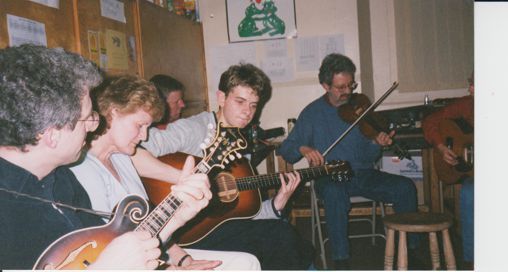 1999 – Classroom session
Barry Mitterhoff – Ginny Hawker – Neal Thompson – Tracy Shwarz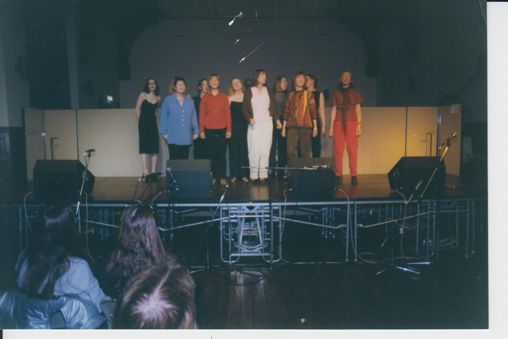 1999 – Student Concert – Ginny Hawker's Singing Class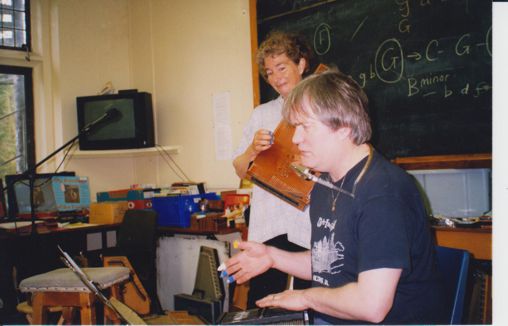 1999 – Mike Fenton Autoharp Tutor with June Maugery
2000 – Third Autoharp Class at Sore Fingers Week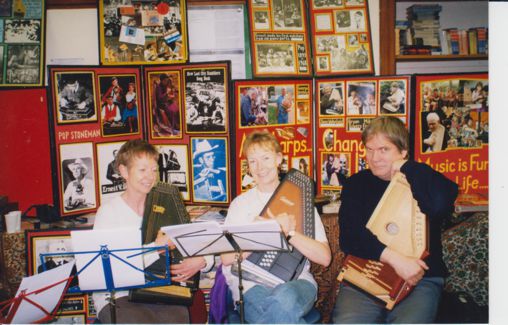 2000 – Autoharp Students & tutor
Mary Ann Vagg – Sue Laughton – Mike Fenton
2002 – Bill Whelan and Kate Lissauer lead the Old Time Jam in the student Concert
It was also Danny Thompson's second year teaching bass and he likes to make a thing of his birthday which occurred during Sore Fingers Week. The caterers baked a cake and Danny diligently cut it into about 150 pieces at Morning assembly, one piece per student!
2001 – Banjo class with Tom Adams
Tom had to give up the banjo due to a medical condition and now is a pretty hot flatpick guitarist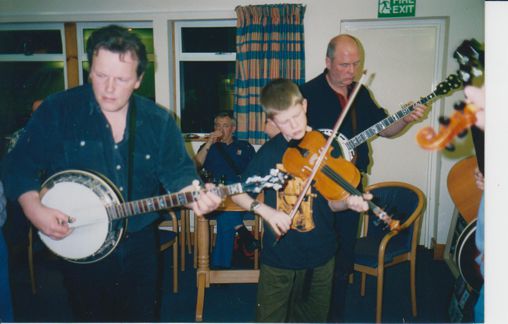 2002 – Down in the no smoking area: Matthias Malcher and a young Sam Draper
Year? Not sure…John and Moira Wirtz running a song workshop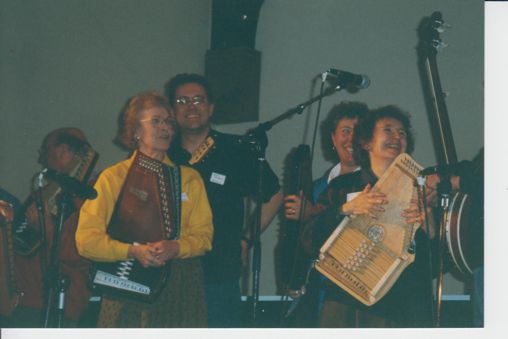 Autoharps are us. Year? Again not sure…anybody remember?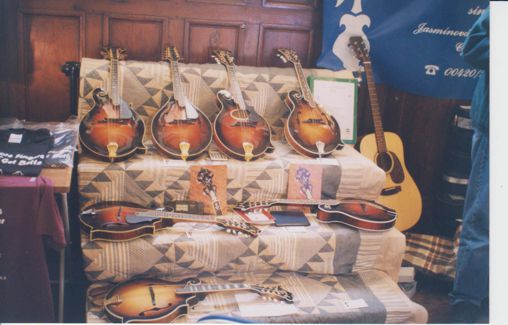 Arthur Robinson's annual mandolin display.
The profit from the sale of these mandolins went a long way towards sponsoring young players to attend Sore Fingers Week. Arthur was also great for helping these young player to get their hands on good quality mandolins. Several are still being played today!