Features
Midnight Skyracer Fire CD Review
Trevor Hyett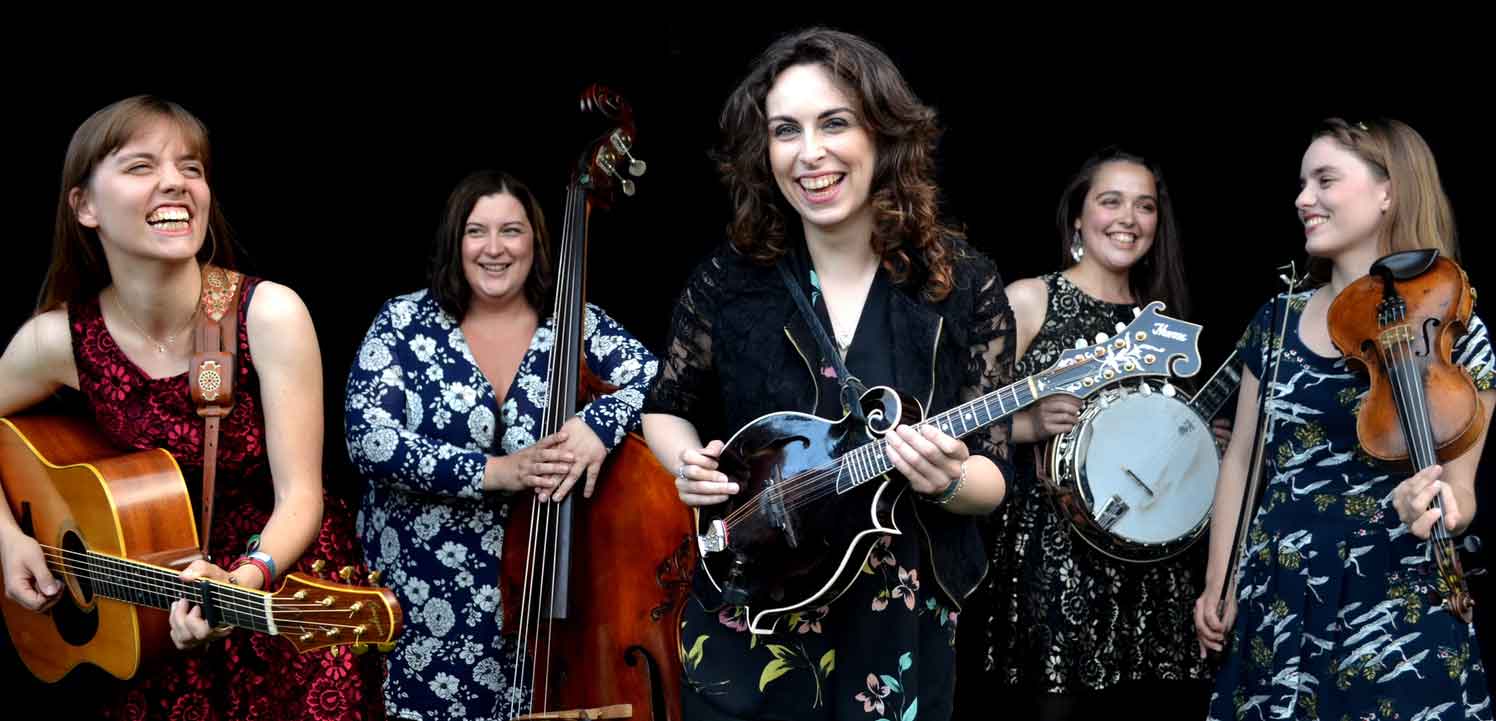 Supergroup is, in so many respects, too easy a term, …a coinage from the late 1960s covering the promiscuity of that era's rockers and super-cool groovers who flitted (and flirted?) from one amalgam of similarly minded egotists to another.
Having got that off my chest, the term does have a proper use, as long as you can pay no heed to the excesses of that post-war generation.
Midnight Skyracer seriously deserve the term Supergroup …and in neon and in large dazzling letters of the most majestic and dignified kind.
I've been in the fortunate position to witness their development since they were in their teens…the Carrivick sisters, Charlotte & Laura, at Sore Fingers and in their many and various musical/band combinations (Check out Cardboard Fox, for example); Leanne Thorose I first saw with her father Cedric (who made her mandolin) at one of the best bluegrass sessions in London. (Monday nights at The Hemingford, north London.) Her edgy bluesie vocals will grab any misogynistic red-neck by the lapels and force them to rush for the hills. Eleanor Wilkie, too, I have seen regularly at Sore Fingers, often accompanying the visiting US tutor luminaries of international standing…her CV is most impressive. (She also plays fiddle with Maria Wallace's band, The Reckless Abandoners, as well as being centrally involved in the newly established Crossover Festival) And banjo player Tabitha Agnew is the youngest of the group and plays with her brothers in the acclaimed Cup 'O Joe.
Full disclosure: they launched a kickstarter campaign last year, to which I proudly and eagerly contributed. The project raised an astonishing £4,000 +!!! And because I am so taken with this album, I trawled the internet to find other responses…here's a couple:
"Fire combines seven self-penned pieces, traditional and bluegrass classics - tradition and contemporary working hand in hand and no sign of a join, and it's seriously good. Harmonies to die for, delicious voices and succulent instrumentation." - Tom Franks for FolkWords
"Fire hasn't been off the player throughout the festive season and I dare say it'll stick around until the spring, and then no doubt beyond that." - Allan Wilkinson, Northern Sky
I'll stick my neck out and suggest that this could be a breakthrough moment in the evolution of our music…these talents will continue to blow all and sundry off most stages. They not only have the chops, they have the taste and the dedication. They are not constrained by any musical straightjackets and will happily unite Bill Monroe, with Hazel Dickens…tradition with their own glorious songs, including three from outstanding bassist (also a fiddler), Eleanor Wilkie.
I'll leave the last word to Ron Block, who writes in the sleeve notes: "As for individuality, Leanne and Tabitha are radically different sorts of lead singers; Leanne takes the edgier material and Tabitha the softer melodies. The harmonies are sweet and sure. Charlotte's guitar tone, Laura's ease on Dobro and fiddle, Tabitha's agile and dynamic touch on banjo, Leanne's guts on mandolin and Eleanor keeping the bottom end solid and deep on the bass – all of these varied aspects of their musical personalities contribute to the greater good of a band playing for the song, for the singer, for the music."
PS…and as well as having a high level of musicianship, they can swing like hell.
CREDITS: Tabitha Agnew: banjo and vocals; Charlotte Carrivick: guitar & harmony vocals; Laura Carrivick: Fiddle, Dobro & vocals; Leanne Thorose: Mandolin & lead vocals; Eleanor Wilkie: double bass.
Engineered by Charlotte Carrivick with Tabitha Agnew and Laura Carrivick; Mixed and mastered by Josh Clark at Get Real Audio.
www.midnightskyracer.com
And check out their facebook page…maybe you'll even 'like' them…
TREVOR HYETT